Donor bike used for restoration of my bike
, also from
the Greek shipment in the 70'ties. (Contract plate S5161)
Identification plate on the rear mudguard (below tail light) indicates contract number S5161. Frame number showed to be made on contract C12426, delivered from august 1942.
Anybody who has restored a military Norton (or any other model military motorcycle for that matter) is usually right about it.

What I do feel strong about however, is that when a motorcycle is restored to immaculate condition, it should be according to the most likely factory specification. A "rebuilt" looking better than new is just not original. In the same way that a military bike without mud is out of context/unnatural.
Do not take me wrong here. The work put into such a bike is absolutely marvellous. I do admire people who have been laboring onto the smallest part and have done a wonderful technical job. My personal opinion is that a military bike was a bike with a practical purpose, not made to be a showroom piece.

With respect to paint, a lot is possible. One engine I acquired a number of years ago was covered  by two shades of brown under two shades of green. This indicates at least four military paint jobs after delivery as the engines were without paint on delivery. For further info on colours, see colours page. In a number of cases, a red/brown type of iron oxide primer has been found on original parts. On prewar parts however, there is no red oxide primer found.
One place to look for the originally applied factory colour is the front lower frame to engine mounting bracket. The inside thereoff seems to be a place often missed during the early restorations which most likely were done using sandpaper and muscle power instead of the "all removing" bead blast techniques used nowadays.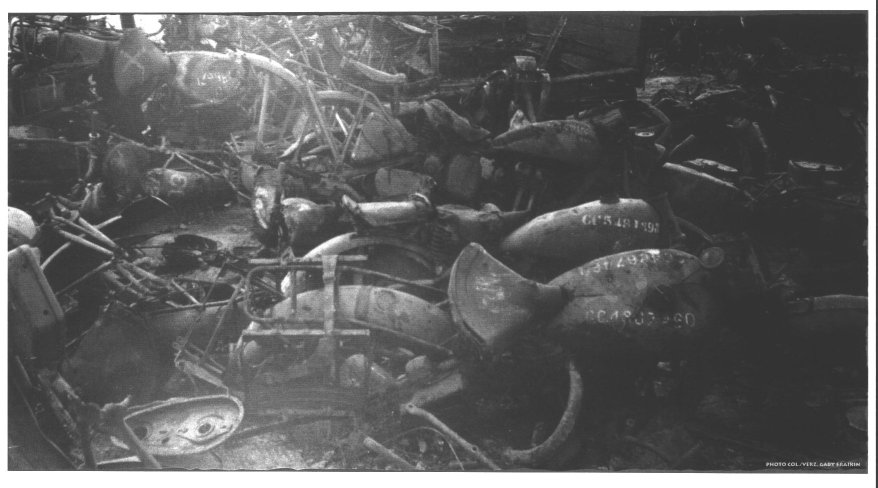 Discarded, abused and forgotten then. Would be a restorers candy box now!

After the war, many military Norton's were painted black with a silver petrol tank (Many others were left to rot, as shown above). If you feel more comfortable the civilian way, you are pretty original with such a colour scheme for a post war period civilianized 16H.
For reasons I can only guess, many "civilian" bikes are marketed as prewar. With the details given on the civil versus military bikes you can easily ascertain what bike you are looking at.
It actually took me 4 years to find a genuine prewar example. Original civil 16H (and Big 4) are quite rare. Side valves being the "poor man's" Norton, the type has suffered from a continues lack of interest.
If you are curious about your bikes history and the unlikelyness that you will ever find it, read the Individual motorcycle history page.<![endif]>