Scrutiny of the original Norton assembly books has revealed quite a detailed description of the the way Military Nortons were made in 1936 and later.
This assembly book turned out to be the holy grail for me.
Below part of the actual text found in the books and a translation theroff to make it more legible.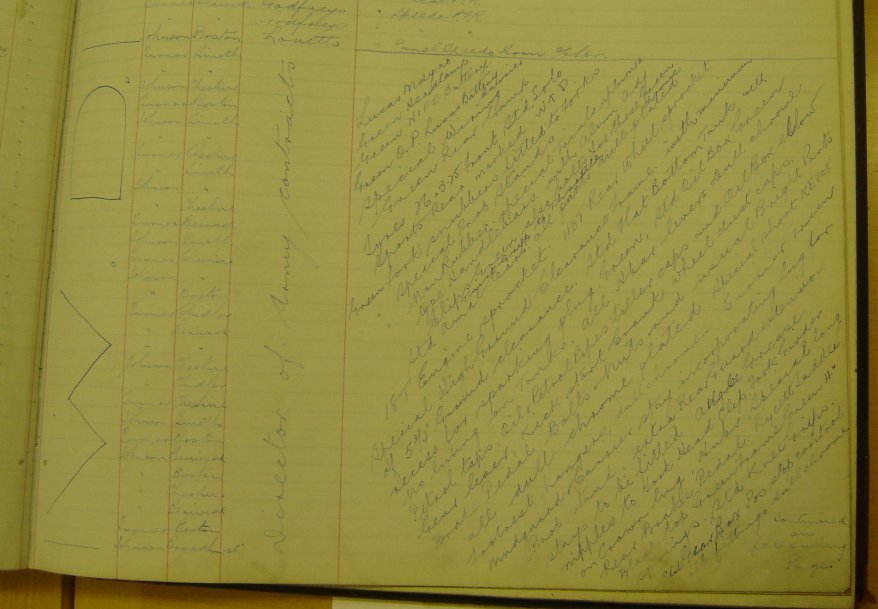 Lucas Magdyno,
Green Headlamp,
Green NIFE battery
Green OP Lucas Battery carrier
Special wiring
Green rear lamp,
Tyres 26 x 3,25 front std solo,
sports rear marked W^D
Green fork snubbers fitted to forks
Green special prop stands
Green non rubber special trials upturned type handlebars with Alum adjust
Clips. Green also bolts for these green,
Standard AMAL twistgrip to throttle cable, all parts dull plated chrome
18T Engine sprocket, 43T rear wheel sprocket.
Special high ground clearance frame with miniumum
of 5 ¾ " Ground clearance. Std flat bottom tank with
recess for sparking plug. Green, std. oil box green,
no lining on tanks. All H'bar levers dull Chrome.
Petrol taps, oil & petrol pipes, filler caps and oil box elbow,
Gear lever, Kick start Crank, wheel dust caps,
Brake pedal Bolts Nuts and usual bright parts
All dull Chrome plated, Special short KE805
Footrest hangers, dull Chrome. Carrier green,
Mudguard Carrier stay incorporating lug for
Prop stand, extra rear guard extension
stays to be fitted Angle grease
nipples to fork head clip, Fork Girder
on Crown lug, Nuts. Special long
Rear Brake Pedal. Lycett Saddle
Black top Green Frame, Green 4"
Springs. Std knee Grips
Std Gear Box pos Stop control
All Fittings Dull Chrome
All Wheels Built up before enamelling. Modified exhaust pipe with
Kink removed. Engine std 16H with compression ratio 5.9 to 100
/79 cc. 1 mm compr Plate, Hoffman Main Bearings, Terry Valve springs
Valve cover Sand Blast finish. Valve cover screw, tell tale head dull
chrome and Ind(uction) stub oil black. KLG KS5 Plug. 170 Jet fitted to
Carb. 160 as Spare Rear guard trapping 4" shorter
than standard. Additional Front Exhaust Pipe bolt
fitted 3/32 shorter than std bolt. Tool Box Lock Dull Finish
This specification for the "mother contract" of all WD16H Nortons really describes very detailed the way a factory new bike would have looked like in 1936.
The changes leading to the "1937 specification WD16H" was basically that from 1937 onwards, the footrest tubes were not welded to the engine plates anymore. Another change (to be confirmed) is the change from the earlier chargeing system to the use of the Compensated Voltage Control system. The information also makes other statements, e.g. that military 16H Nortons had stronger front fork springs most likely hearsay, and not truth. Use of special high ground clearance frame, confirmed,