Dispatch riders course number 9, March 1944 Windermere, UK. Jack Bullock at centre. As can be seen, the weather was not very comfortable!
The 2 gentlemen at the right were the instructors, comfy in their DR coats. The rest had to do with the Battle Dress and leather Jerkin. Typical for most late war instruction machines, total lack of lighting at the front! Bikes are from contracts C9681, C5109, C5612, C6127, V7353 and one unknown. All machines from between 1937 and 1940.
After training, Jack became a DR in the 43rd (Wessex) Infantry Division, Support Company, 1st Battalion Worcestershire Regiment and landed near Arromanche on D + 12. His 16H was on the back of a bren gun carrier tied on with rope !! and somewhere near Longues-sur Mer he cut her off and rode away to war, only to be blown off by a mortar bomb near Caen 3 weeks later, the bike was a write off.
Wounded in hand and neck, he was sent back to the UK (flew Dakota) with his kit and he was in hospital for 2/3 weeks. When his dad visited he gave the helmet to him to look after. As he was only lightly wounded he got sent straight back to his unit after 5 weeks and re-equipped with new 16H and all. (The helmet stayed in the family!!!)
The trail of the 43rd Inf Div ran from Falaise north through Holland into Northern Germany. Jack remained stationed in Germany and finally performed escort duties (temporary attachment to 214 Bde HQ Provost) between prisons and courts for German war criminals. In 1946 he "collected" his newly found Dutch girl and returned to England. He died peacefully on April 16th 2008.

Goch, after the crossing the Rhine in Jan/Feb 1945, bike C4684571, contract C12426, most likely frame/engine number W75914. One of the last machines of that contract.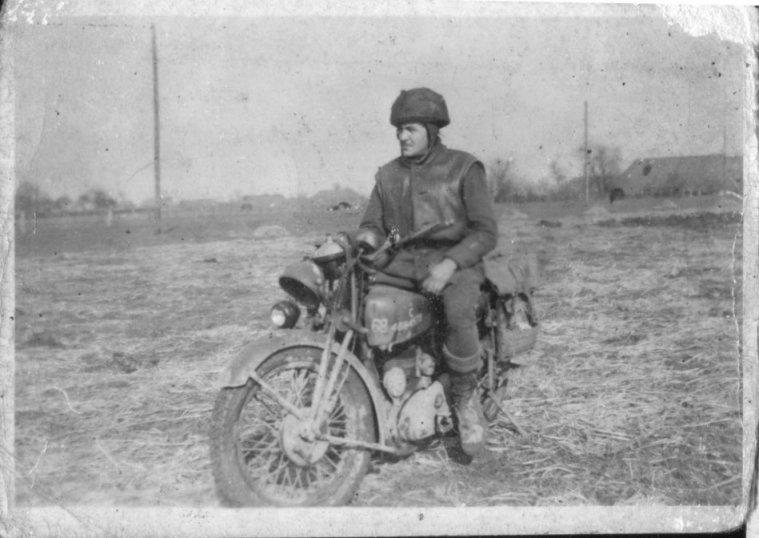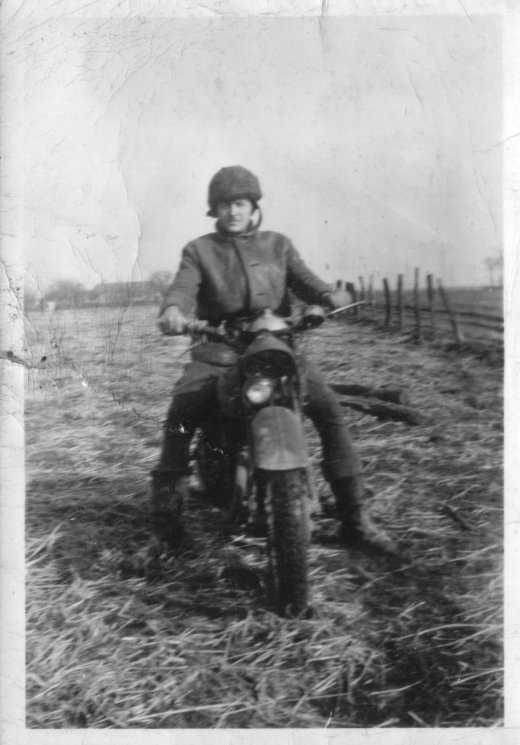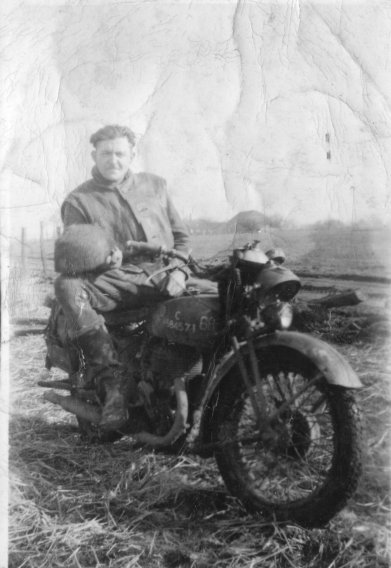 Dalenburg August 1945, temporarily attached to 214 Bde HQ Provost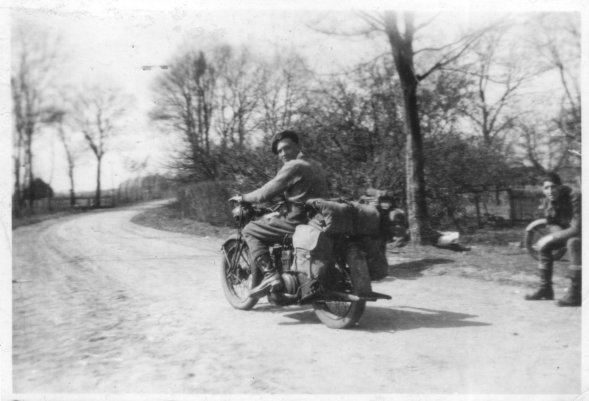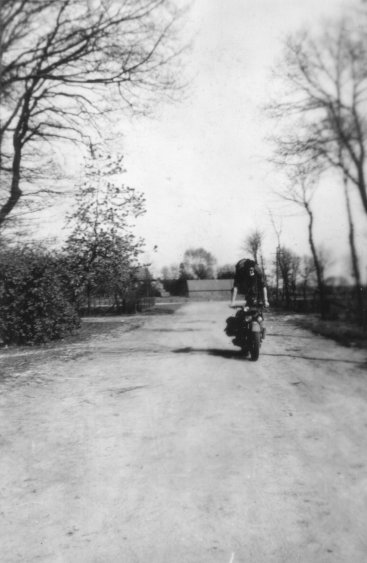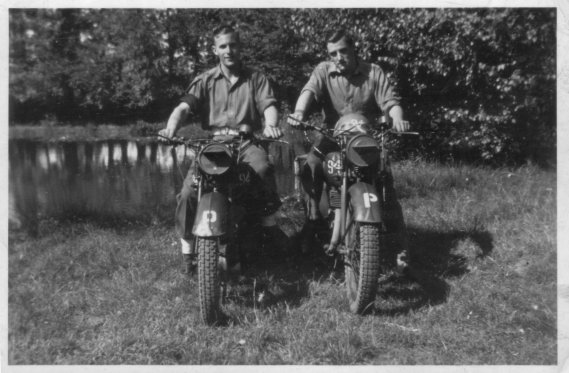 Early 1982, during the battle for Goose Green on the Falklands, and while hiding in a shed to observe the Argentinean positions, Jacks son Alan (Second Battalion Parachute Regiment) found a WD16H lying on its side. It was miraculously unscathed even after the shed was being riddled by Argentinean bullets shortly afterwards. When he revisited the island in 1985, he re-traced the bike, bought it and shipped it home as deck cargo. As Alan was pre-occupied with his occupational and family obligations, Jack restored the bike to ride on. Hindered by age he now lets his son do "the honours" of keeping a Norton alive.
According to the original Falklands owner, this particular bike sailed for the Falklands as part of a batch of BSA's and Norton's to be used by the HQ coy, 11th Bn West Yorks Regt. which arrived in November 1940. The bike must have been shipped later as it was made in 1942.
It was to be dumped in the sea when the war was over and the regiment went home, but a local shepherd (Willie Bowles) secured it for the price of a bottle of famous Grouse whiskey, to gather his sheep on the swampy lands around Goose Green. Another "Falkland" bike was saved which is now somewhere in/near Basingstoke, Hampshire. During its life on the Islands the bike was given a BSA rear wheel and front mudguard. The rear wheel has been corrected, the front mudguard remains as a "field modification" to the bike.
The C11082 number signifies the actual contract to which it was ordered. The most likely Census number worn by the bike was C4596463.