As found until now, each contract had a related spare parts list. As seen in the table below.
Sometimes you find spare parts lists with a stamped on number like C5612/18/1, showing contract and catalogue number. The 1 probably stands for an issue number (who knows exactly?). Many spare parts lists do not show these stamped on numbers, indicating in my opinion that the lists were not stamped by the Norton factory, but most likely by the military before final distribution.
A good source for hardcopies of spare parts lists is Rob van Meels re-prints military literature, see links page.
I would however like to say that there have been intentions, and applications.
Looking at the spare parts list of contract V5373 for instance it shows more or less the "normal" early type motorcycles with the standard tool box mounted on the right hand side behind/below the oil tank. In the front of the booklet however is a page titled "IMPORTANT" which refers to l.h. and r.h. tool boxes (pannier toolboxes) , not showing in any of the attached illustrations. The page shows a number of parts and supersession numbers.
To ease the identification of motorcycles for spare parts ordering purposes, the motorcycles were provided with "identification" plates on top part of number plate holder, or below tail light on bikes without number plate, indicating contract number and catalogue reference number. Early plates were made of brass, later plates of steel, see below.
I have until now only seen contract plates of C11082, C14426, C14498 (brass), S2602 and S5161 (steel). It would be nice to hear if anybody has pictures of other contract number identification plates. It is not clear whether these plates were actually applied to all motorcycles.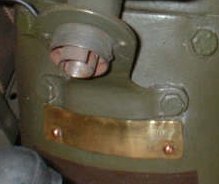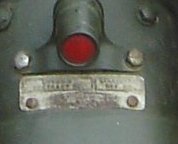 When more and more rebuilt machines came into being, the use of the contract plates became less usefull. This may even be the reason they are largely removed from the motorcycles. It might have led to incorrect parts ordering. Civilianising motorcycles will undoubtedly also have made lots of "casualties".
(WD)16H

BIG4

Contract nos.

catalogue ref. nos

Contract nos.

catalogue ref. nos

C1561
7
C2925
11
V3565
16
C5333
17
V3849
21
C6831
20
C7576
24
C11297
29
C13056
32

? *

36
* according to Orchard and Madden this was C7371. Assuming chronological order, this seems unlikely (not impossible).